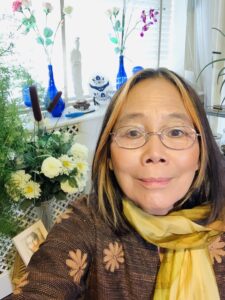 At Quan Yin Wellness Consultancy and Retreats, Saki Lee invites you to participate in taking charge of your own health, healing and wellbeing. Her warmth, attentive listening skills, and many years of clinical experience in multiple healing modalities make her a good choice for your wellness needs.
Saki has been a licensed acupuncturist, herbalist, qigong instructor and massage therapist since 1986. Her life´s work in the Oriental healing arts reflects a synthesis of eastern and western approaches to health and well-being. She is particularly interested in helping her clients understand and work with the psychological and spiritual issues underlying energetic and physical imbalances and illness.
Saki is a graduate of the San Francisco School of Therapeutic Massage (1979), The European University of Traditional Chinese Medicine (1986), and the American Pacific University/AIH (1997). Her doctoral studies focused on the Healing Power of the Mind.
As a long time member of ZHONG, the Dutch Association for Traditional Chinese medicine, her post-graduate studies included TCM Herbal Medicine with Ted Kaptchuk (K'an Herbals), Subhuti Dharmanada (Institute for Traditional Medicine), and Japanese acupuncture with Stephen Birch and Junko Ida .
She has been a long-time student of qigong teachers Dr. Weixiang Wang (medical qigong), Dr. Yang Jwing Ming (8 Brocades and Qigong for Arthritis), Master Hua Ching Ni (Dao-in and Taoism), and Dr. Larry Johnson OMD (18 Buddha Hands qigong).
Additionally, Saki has been guiding meditation and transformational retreats since 1991, both for individuals as well as with groups around the world. Her inspiration, training and authorization to guide retreats are grounded in over 40 years of following an ecumenical Sufi mystical path with her teacher Pir Vilayat Inayat Khan. She has also studied Buddhist mindfulness trainings for therapists and teachers with Tara Brach, Jack Kornfield and Pema Chodrun.
Music and the healing vibrational power of sacred sound have been an important part of her life ever since she was a teenager. She has studied classical Indian music for many years with Shri Biresh Roy and Jamaluddin Bhartiya. Swar yogi Shri Shyam Bhatnagar was her teacher for many years in chakra psychology and the healing power of sound. Saki is also a certified mentor in the Dances of Universal Peace, leading groups around the world in mantric chants and dances which open the heart to loving kindness and unity consciousness.
When Saki is not working with clients or guiding retreats or classes, she is happily working in her garden or walking in the nearby forests and dunes, learning continually from nature´s amazing ways. Originally from San Francisco, California, Saki lives in the Netherlands and is married to Sipko den Boer, a translator of Rumi's poetry. She is blessed with a son, Jai, who is a legal translator living nearby. Their home is cozy with the presence of two adorable feline friends Fleur and Habib